Adam Ant & Dave Barbe - A Tale of Two Intimate Ant Gigs
Submitted by madamstan on Sat, 20/03/2010 - 00:17
in
If you go down to London today, you may be in for an Ant-shaped surprise. With plans afoot, contacts primed and advance tickets purchased "just in case" for a 'secret' club night performance from Adam Ant himself for Saturday, we headed over to Liquid Nation on Ladbroke Grove, west London on Thursday for a relaxing evening with "Family Man" Dave Barbe who we knew for definite would be appearing with his new indie electro outfit Guilty Fawn.
Now, Liquid Nation isn't that well known for its live music reputation. We know that, because it was 8.30pm on a Thursday evening and, apart from Caroline and I, the tiny crowd was mainly made up of the members of the other acts, a couple of locals and a particularly personality disordered soon-to-be-thrown out Quentin Crisp wannabe who decided to spit furiously at anyone daring to talk through the opening act. Fair enough, it was a acoustic guitar touting soloist with not much ampage, but I was greeting some old pals and original Ant fans from 'back in the day' who had arrived to show support for Dave - who by now had arrived wearing his football manager assemblage of sheepskin coat and flat cap.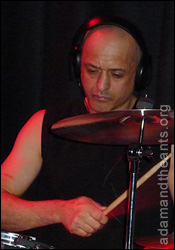 @antpeople: At Dave Barbe's gig - rumours of Adam making appearance. Will keep y'all informed of outcome... [8:27 PM Mar 18th via txt]
Dave spots Caroline's trusty camcorder, "You might have something a bit more to film later!" he tells us exitedly. Apparently Dave has just taken a call from Adam, who has shown interest in coming along for a bit of a jam. We take it as face value as we have a lot of previous experience of Ants telling us they're coming to a gig or event, only to blow us out with a half-arsed explanation or none at all.
Soon, Dave and Guilty Fawn's georgeous and talented singer/bassist Sarah soon made their way to the stage for the half hour set. As distinctive opening bass lines got their their first song underway, I knew we were in for a rare treat of new music - catchy pre-programmed synths added texture, while Sarah's vocals were melodic yet powerful and Dave's drumming in top form. With just two live members, Guilty Fawn are the full live package - and with a year's worth of small gigs under their belt, should probably now be aiming for something slightly more fulfilling than short set in a west London wasteland.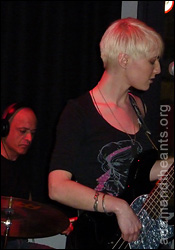 @antpeople: Gig finished and Adam's doin a gig tonight up the road - details to follow... #wildantchase [9:46 PM Mar 18th via txt] After the set of very likable tuneage indeed, Dave doffs his 'Aurthur Daley' gear again and settles down with us outside the venue under the Westway for a brief catch-up chat for Warriors 4. When asked about the choice of venue, Dave reminds us that he simply loves playing live - whether to 4 or 400 (or 4,000 even).
When you've got as much pop and punk pedigree under your Spurs-supporting belt as Dave Barbe, size doesn't matter as much as the sheer unadulterated enjoyment of playing live to people who appreciate music. Dave is particularly pleased to see old Ant fans from the punk days, and encourages us to interview them next for questions regarding specific gigs that Caroline has crafted into our list of interview questions for her final Warriors 4 edit.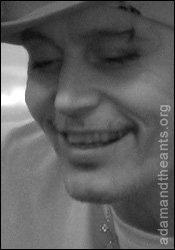 @antpeople: In cab full of punks on way to Angel - fuck knows where we're going... #wildantchase [10:05 PM Mar 18th via txt] We soon line up our punky pals Quadrophenia film poster style and begin the adhoc filmed interview. The chat and banter gets underway with talk about tattoos and what not until one of them take a call. Carrying on, it's soon apparent the phone chat is heating up as we get word that Adam is elsewhere with a mutual friend giving a performance along the A40 in Angel, Islington.
Politely saying our goodbyes to Dave as he made his own way back to north London, a cab was hailed from the rank next to Ladbroke Grove station with no other instructions than to head in the direction of Amwell Street. No venue, no futher details. We had no idea where we were going, the cab driver's satnav only seemed to speak Spanish, French or Dutch, and we were taking a punt of a £20 fare to seemingly nowhere. But adrenalin dictated that it was, at least, worth a shot.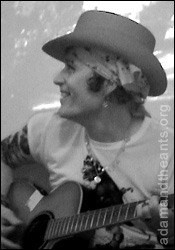 @antpeople: Ok we're here, Adam's doin some Iggy Pop to a small boudoir of chums. Nice. [10:33 PM Mar 18th via txt] A few babbled phone calls, a couple of arguments and a stop to look in the A-Z later and eventually we found ourselves opposite a wine shop and were bustled down a narrow staircase to a set of red velvet curtains. The sound of Adam's gentle tones wafting from behind them as he entered into the middle eight of Ants Invasion.
I tentatively parted the drapes and we sauntered in to what could be described as a dark womb-like room, with red velvet covering the walls. A small seated audience of not much more than a dozen artisans, cross-dressers, fashionistas and friends lounged attentively as Adam sat strumming a well-worn borrowed acoustic guitar. We found that Adam had been entertaining this well-heeled audience for most of the evening with Ant favourites, but we had arrived in time to catch an Iggy Pop cover, Cartrouble (which I leant a timely reminder of the words to!) and a wonderous Bolanesque version of Physical as his final tune of the night.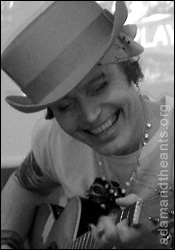 @antpeople: Ok show over - hometime. Punks off for night of debauchery with Adam - I'm off to fix #antlibonline [11:18 PM Mar 18th via txt] Both events were low key - Dave Barbe playing to a few live music enthusiasts, Adam in the basement of a shop for a few friends. Two legends in their own field, with a deep passion for keeping their music real.
I received a text from the promoter that the slightly more public Adam appearance in London Bridge would be going ahead, and with just a button to press to make the news live on Ant Lib Online, was kindly granted a minute on the shop (for now I realised the 'venue' was a 2nd hand bookshop!) computer. Apparently our "Ant chasing" tweets (some reconstructed above in 'real time') had put the site into meltdown, so when the opportunity of heading into town for food with Adam and his entourage arose, I had to make my excuses and make a dash for Ant Lib HQ to do something about the blank error page that had replaced our usual site. And settle for a cola and ham sandwich from Sainsbury's for a night of MySql fun. Us Ant fans really know how to enjoy ourselves! ;")
Find out more about Dave Barbe's latest band Guilty Fawn here.
For more information on Adam's gig this weekend, click here.
Your rating:

None
Average:

5
(

1

vote)
Who's online
There are currently 0 users and 64 guests online.
Who's new
bugpowder
PixieM
buddyholly
sfc1870
bretty
This Month's Poll
Who's the quintessential 'Ant Video Girl'?
Amanda Donahoe (Antmusic, Stand & Deliver)
22%
Diana Dors (Prince Charming)
39%
Lulu (Ant Rap)
0%
Caroline Munro (Goody Two Shoes)
19%
Karen Landau (Puss 'n' Boots)
11%
Mary Stavin (Strip)
4%
Sara Stockbridge (Room at the Top)
6%
Total votes: 54