Adam Ant & Friends on a Spring Sunday Afternoon
Submitted by madamstan on Mon, 08/03/2010 - 17:00
in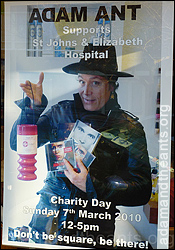 Now, Sundays are usually for recuperating after the night before. In this case, it was from being up all night on the new Ant Lib Online, putting final touches to articles and interviews. A call from Caroline, Ant Lib video editor extraordinaire, awoke me from dreams of editing CSS tags: something about Adam, an auction and a hairdressers. You know that feeling when you think somebody is having you on..?
Because I live not so very far away from St John's Wood, I thought I'd better go along 'just in case'. Caroline being knee-deep in her work with a deadline looming wasn't so sure, but we both chanced what seemed more like an episode of Beadle's About and individually made our way to Passion, just off St John's Wood High Street in north west London.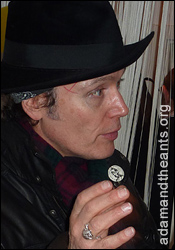 Now, if you've ever been in a hairdressing salon in London (I try to avoid them like most people avoid dentists...), you'll know they are not the roomiest of places. The fact the proprietors of Passion managed to fit in a buffet table, steel drum and more than ten people was a mathematically anomaly that could normally only be explained in a Doctor Who episode.
We were originally told that Adam would be arriving for the charity auction at 4pm. Indeed, there was a small pile of Ant goodies on the shelf – signed and illustrated autobiography, various CDs and records – but the true treasure of the afternoon was Adam's mum, who consumed copious amounts of coffee while relaying stories of Adam's childhood, Marco's eating habits and fondness of Johnny Mathis.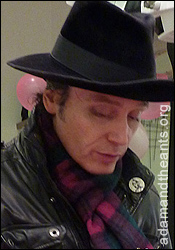 At around 5.30pm, Adam arrived with the lovely Richard Cohen (long term accountant and friend of both Marco and Adam) brandishing a valise of coveted Ant items including jewellery, gold disc, a Swap Shop award, and the very cassette recorder on which Adam recorded demos of Dirk and Kings. Adam was in top form, on his manor, with his sort of people and the difference of his outward improved health and appearance from the signings (and even Bloomsbury) was much evident. A healthier, radiant Adam. Our Adam.
We joked about the location of the 2010 Adam & the Ants convention (you'll soon find out why...), Johnny Depp, and doing the Prince Charming dance. Much banter ensued, and with the exception of American fan, Angela, phoning in with some generous bids on Adam's ring and the tape recorder, the auction was almost forgotten as Adam signed autographs for the locals and posed for photos.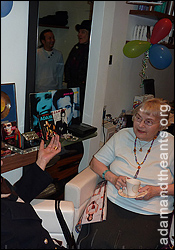 On leaving, it was hugs all 'round and as Caroline and I walked back up the street to Marylebone Road, the understated, unpretentious events of that afternoon were summed up with an equally modest "Well, then...!". And not a hidden camera show host in sight.
Thanks to Passion hairdressers, St John's Wood for their hospitality, Adam's mum for the lively chat, Richard Cohen for the stories, Monk for the heads-up (honoured to be your London correspondent, sir - LOL) and of course Adam for his humour and general loveliness.
Find out more about the great work of the St John's Hospice at www.stjohnshospice.org.uk.
Who's online
There are currently 0 users and 56 guests online.
Who's new
bugpowder
PixieM
buddyholly
sfc1870
bretty
This Month's Poll
Who's the quintessential 'Ant Video Girl'?
Amanda Donahoe (Antmusic, Stand & Deliver)
22%
Diana Dors (Prince Charming)
39%
Lulu (Ant Rap)
0%
Caroline Munro (Goody Two Shoes)
19%
Karen Landau (Puss 'n' Boots)
11%
Mary Stavin (Strip)
4%
Sara Stockbridge (Room at the Top)
6%
Total votes: 54