Adam Ant Charity Day Sunday 7 March 2010
Submitted by admin on Mon, 08/03/2010 - 17:11
in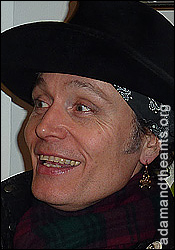 Adam Ant made a surprise appearance as part of the Passion hairdressers charity day for St John's Hospice in St John's Wood, north west London yesterday.
Donating some fabulous items including jewellery, signed records and books plus the tape recorder Adam used to record demos for Dirk Wears White Sox and Kings of the Wild Frontier albums, he chatted with locals and regulars of the salon and revealed that he is working with long-term cohort Marco Pirroni again after the pair drifted apart following Adam's well publicised psychiatric issues back in 2002.
Adam also found time to grant Ant Lib an interview for the forthcoming Warriors 4 DVD. Read more about the event on the Ant Lib blog - and see how well Adam looks now with exclusive photos.
Who's online
There are currently 0 users and 7 guests online.
Who's new
bugpowder
PixieM
buddyholly
sfc1870
bretty
This Month's Poll
Who's the quintessential 'Ant Video Girl'?
Amanda Donahoe (Antmusic, Stand & Deliver)
22%
Diana Dors (Prince Charming)
39%
Lulu (Ant Rap)
0%
Caroline Munro (Goody Two Shoes)
19%
Karen Landau (Puss 'n' Boots)
11%
Mary Stavin (Strip)
4%
Sara Stockbridge (Room at the Top)
6%
Total votes: 54