Adam Ant: Leave My Beautiful Hayley Alone!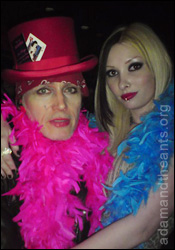 Adam Ant has hit back at negative criticism from fans with regards to his friendship with Hayley Thompson, former Satanic Slut who performed on drums with Adam at the Troubadour last Friday night.
Speaking to Ant Lib via Hayley on our Facebook page, Adam tells fans who have been leaving negative personal comments on internet forums:
"Everybody is entitled to their opinion about my public acitivites but when it comes to my private ones, if you respect me or my work or my attitude to sexuality in any way shape or form, I think you should keep your judgements for my work. You have the right to say that it's good or bad but not that it's right or wrong. Hayley is not only a beautiful person and an excellent drummer, but a shining example of 21st century pirate metal womanhood. Love and kisses, Adam."
When asked on whether we should / could pass on his words, Adam concluded with "Please do, if they're fans they'll understand, if not then they should wallow in a tub of misery. Remember - It was always Ant Music for Sex People. They don't sound like sex people to me."
From what we hear of last Friday's performance, Hayley is indeed a talented young lady and we at Ant Lib are pleased to welcome her into the Ant family.