Adam Ant Live: Concorde 2 - Brighton Monday 16 May 2011
Submitted by admin on Fri, 25/03/2011 - 00:00
in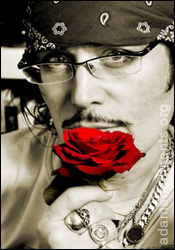 Adam Ant, in association with Family Entertainments, has announced a live show at Brighton's premier alternative live music venue Concorde 2 for Monday 16 May 2011.
Tickets are on sale now from Ticketweb for the budget-friendly price of £20. For more information on getting to Concorde 2, click here.
This is the first headline Ant show to be announced since Adam fled to France after January's lacklustre 100 Club gigs. Letting rip for Clink Music blog, Adam vents his frustrations by describing fans as "A bunch of fucking Teletubbies". Seems like there isn't just the one Laa-Laa, eh Adam?
Photo: Imelda Michalczyk
Who's online
There are currently 0 users and 32 guests online.
Who's new
bugpowder
PixieM
buddyholly
sfc1870
bretty
This Month's Poll
Who's the quintessential 'Ant Video Girl'?
Amanda Donahoe (Antmusic, Stand & Deliver)
22%
Diana Dors (Prince Charming)
39%
Lulu (Ant Rap)
0%
Caroline Munro (Goody Two Shoes)
19%
Karen Landau (Puss 'n' Boots)
11%
Mary Stavin (Strip)
4%
Sara Stockbridge (Room at the Top)
6%
Total votes: 54