Adam Ant Live at The Scala - TONIGHT!
Submitted by admin on Fri, 09/04/2010 - 15:46
in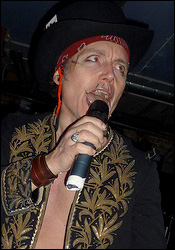 Adam Ant will be playing live tonight (Friday 9 April) at The Scala, King's Cross with the Glitter Band, according to the London venue's Twitterfeed.
Adam's management have confirmed an appearance for the Glitter Band's comeback gig, which sees support from Angie Bowie and punk legend Spizz Energi. Playing a full set of material spanning four decades last Friday, Ant fans are hoping for a treat tonight as he plays his biggest public performance since the Bloomsbury Theatre show.
Adam's drummer-cum-partner Hayley has also revealed to Ant Lib that there is a headlining Ant show on the horizon.
Tickets for tonight are available on the door from the Scala box office, but we recommend purchasing tickets in advance via Ticketweb to be on the safe side!
Who's online
There are currently 0 users and 62 guests online.
Who's new
bugpowder
PixieM
buddyholly
sfc1870
bretty
This Month's Poll
Who's the quintessential 'Ant Video Girl'?
Amanda Donahoe (Antmusic, Stand & Deliver)
22%
Diana Dors (Prince Charming)
39%
Lulu (Ant Rap)
0%
Caroline Munro (Goody Two Shoes)
19%
Karen Landau (Puss 'n' Boots)
11%
Mary Stavin (Strip)
4%
Sara Stockbridge (Room at the Top)
6%
Total votes: 54