Adam Ant Live at the Troubadour Last Night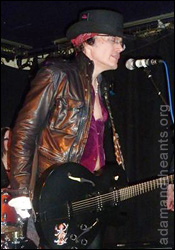 Adam Ant made one of his now legendary guerrilla live performances Good Friday night, this time at his old Earl's Court haunt, The Troubadour Cafe.
Featured in Adam's autobiography Stand & Deliver as a favourite hang-out when he lived in Redcliffe Gardens back in the late 70s, the Troubadour played home to an awesome extended live set of early Ants favourites including Red Scab, It Doesn't Matter and Lady along with hits such as Stand & Deliver and even a rare live outing for Prince Charming.
The gig also saw the debut of Adam's new song, written with Satanic Slut Georgina Baillie - the infamous grand-daughter of Andrew Sachs - who was at the centre of the Radio 2 'Sachsgate' affair involving Russell Brand and Jonathan Ross.
With recent late night visits to the recording studio this week, Adam had the benefit of playing the last minute set with a full backing band (which included members of Rachel Stamp) as he performed to the small crowd of 30-40 lucky punters between 1-2am in the small hours of this morning.
Added 6 April 2010: New video of Adam performing Red Scab!
Here's a rather dark and shaky video of Adam performing Shakin' All Over from the gig at the Troubadour...