Adam & the Ants Manager Malcolm McLaren Dies, Aged 64
Submitted by admin on Thu, 08/04/2010 - 19:47
in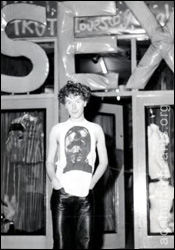 Malcolm McLaren, outspoken manager of the New York Dolls, Sex Pistols, Adam & the Ants and Bow Wow Wow passed away earlier today, Thursday 8 April 2010.
Aged just 64, Malcolm Robert Andrew McLaren died this morning at his home in New York City in hospital in Switzerland after a battle "for some time" with cancer. McLaren's apparent sudden death came as a shock to most as he had kept his illness quiet. In February he had travelled to New York for the launch of an art book before returning to Switzerland to be treated at a clinic.
A highly regarded – albeit controversial – figurehead of the early Ants community, McLaren was a key influencer of Adam's tribal sound for the regenerated Ants line-up of 1980 after the punk impressario nabbed Dave Barbe, Leigh Gorman and Matthew Ashman for his own rival band Bow Wow Wow.
In a recent article by Uncut, he told the magazine:
Adam was like many pop artists of the time: a troubled, wannabe punk rock groupie. One of his erstwhile girlfriends, Jordan, who worked in my store, Seditionaries, convinced me to help him. In his cute Earl's Court bedsit, I instructed him as best I could in the art of war and pop cultural reinvention. He listened well as I played the rock 'n' roll alchemist and he my willing prey, I believe he paid me £1000 in cash at the end of the evening's session. During it, I played for him a speeded up version of the "Drums of Burundi", a track I discovered in the Centre Pompidou, Paris. This ethnic, sacred, tribal sound formed the basis of "Kings of the Wild Frontier".
Malcolm McLaren's body is being brought back to London where it is thought he will be buried in Highgate cemetery next week.
RIP Malcolm McLaren, 22 January 1946 – 8 April 2010.
Who's online
There are currently 0 users and 35 guests online.
Who's new
bugpowder
PixieM
buddyholly
sfc1870
bretty
This Month's Poll
Who's the quintessential 'Ant Video Girl'?
Amanda Donahoe (Antmusic, Stand & Deliver)
22%
Diana Dors (Prince Charming)
39%
Lulu (Ant Rap)
0%
Caroline Munro (Goody Two Shoes)
19%
Karen Landau (Puss 'n' Boots)
11%
Mary Stavin (Strip)
4%
Sara Stockbridge (Room at the Top)
6%
Total votes: 54