Adam's Art Antics at the South London Gallery
Submitted by admin on Tue, 16/03/2010 - 09:30
in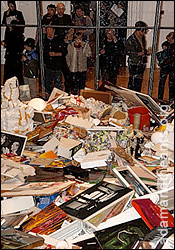 Art School drop-out Adam Ant rounded off the Art Bin installation at the South London Gallery, Peckham on Sunday night - by chucking in a collage he created on the spot.
The former Hornsey Art School undergraduate completed the six week installation, which was launched by controversial artist Damian Hirst and included an estimated £1million worth of paintings from the likes of Tracey Emin and pop art icon Peter Blake - all thrown into a clear perspex skip.
The Art Bin's curator Michael Landy envisaged the work as a "monument to failure", celebrating failed art with a "sacrificial pit".
Who's online
There are currently 0 users and 50 guests online.
Who's new
bugpowder
PixieM
buddyholly
sfc1870
bretty
This Month's Poll
Who's the quintessential 'Ant Video Girl'?
Amanda Donahoe (Antmusic, Stand & Deliver)
22%
Diana Dors (Prince Charming)
39%
Lulu (Ant Rap)
0%
Caroline Munro (Goody Two Shoes)
19%
Karen Landau (Puss 'n' Boots)
11%
Mary Stavin (Strip)
4%
Sara Stockbridge (Room at the Top)
6%
Total votes: 54