Ant Fans Doin' it For Themselves...
Submitted by admin on Sun, 18/04/2010 - 21:02
in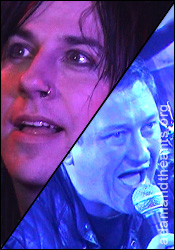 Adam Ant may have blown out his two regional Glitter Band guest appearances in spectacular style this weekend, but it was the Ant fans who stole the (no)show in Birmingham on Friday night.
With Adam apparently thigh deep in the arrangements for Malcolm McLaren's funeral this coming Thursday*, the entertainment was left to Ant Lib Live! II headliners Mechanical Cabaret with a welcome return of their rather splendid electro techno version of Desperate But Not Serious to their live set, plus Wayne Hibberts - singer with this year's Ant Lib All Dayer headliners Ant Muzic - who joined the Glitter Band for Antmusic, Vive Le Rock and I'm the Leader of the Gang (I am).
Despite being dramatically let down by Adam's no-shows at Eddies in Birmingham and Satan's Hollow in Manchester, Ant fans made the most of both evenings with some excellent performances from the Glitter Band and supporting acts. The exact circumstances surrounding his non-appearance on the Saturday night still remain unclear, with Ant fans speculating more than ever on Adam's ongoing mental health issues.
Watch highlights exclusively edited from Friday night at Eddie's...
*The funeral of former Ants manager Malcolm McLaren will be taking place on Thursday 22 April. For members of the public who would like to pay their last respects to him, the funeral cortege will travel between 1.15pm and 2.15pm through Camden High Street, Chalk Farm Road, Ferdinand Street, Malden Road and Southampton Road en route to his final resting place. For more information, visit www.humanade.org.uk.
Who's online
There are currently 0 users and 41 guests online.
Who's new
bugpowder
PixieM
buddyholly
sfc1870
bretty
This Month's Poll
Who's the quintessential 'Ant Video Girl'?
Amanda Donahoe (Antmusic, Stand & Deliver)
22%
Diana Dors (Prince Charming)
39%
Lulu (Ant Rap)
0%
Caroline Munro (Goody Two Shoes)
19%
Karen Landau (Puss 'n' Boots)
11%
Mary Stavin (Strip)
4%
Sara Stockbridge (Room at the Top)
6%
Total votes: 54