Dave Barbe - Guilty Fawn Live Dates Summer 2010
Submitted by admin on Wed, 12/05/2010 - 13:45
in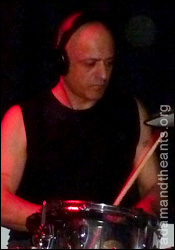 Former pre-Kings era Adam & the Ants and Bow Wow Wow drummer Dave Barbe embarks on a series of live London dates from tonight with latest project Guilty Fawn.
Forthcoming Dave Barbe / Guilty Fawn dates:
Wednesday 12 May 2010 - Powers Bar (on stage 9pm)
332 Kilburn High Road, London NW6 2QN
Due to unforeseen circumstances, the following dates have been postponed. Please check back for further updates:
Saturday 12 June 2010 - 333 Motherbar (on stage 9pm)
333 Old Street, Hoxton, London EC1V 9LE
Wednesday 23 June 2010 - Roadtrip (on stage 9.30pm)
243 Old Street, Hoxton, London EC1V 9EY
Find out more about Guilty Fawn here.
Who's online
There are currently 0 users and 23 guests online.
Who's new
bugpowder
PixieM
buddyholly
sfc1870
bretty
This Month's Poll
Who's the quintessential 'Ant Video Girl'?
Amanda Donahoe (Antmusic, Stand & Deliver)
22%
Diana Dors (Prince Charming)
39%
Lulu (Ant Rap)
0%
Caroline Munro (Goody Two Shoes)
19%
Karen Landau (Puss 'n' Boots)
11%
Mary Stavin (Strip)
4%
Sara Stockbridge (Room at the Top)
6%
Total votes: 54