Home Taping is Killing Ant Music?
Submitted by admin on Mon, 15/03/2010 - 21:31
in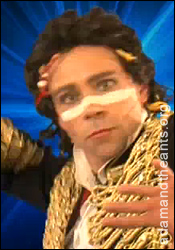 A parody of Adam Ant has been used by UK Internet Service Provider TalkTalk for their new viral video supporting the Don't Disconnect Us campaign. Featured on BBC1's long-running current affairs programme Panarama this evening, the video lampoons the Home Taping is Killing Music campaign of the early 1980s with renditions of George Michael, Madonna and - somewhat surprisingly - Adam Ant.
Adam has always historically stood against illiegal bootlegging and has passionately protected his copyright throughout his career. What the self-confessed 'luddite' thinks of the campaign is open for debate, but you can read Marco's opinions on internet file sharing in the forthcoming edition of our free Antzine No Response, mailed to all Lifetime Subscribers in the next month.
For more information on Don't Disconnect Us, visit the campaign website.
Who's online
There are currently 0 users and 45 guests online.
Who's new
bugpowder
PixieM
buddyholly
sfc1870
bretty
This Month's Poll
Who's the quintessential 'Ant Video Girl'?
Amanda Donahoe (Antmusic, Stand & Deliver)
22%
Diana Dors (Prince Charming)
39%
Lulu (Ant Rap)
0%
Caroline Munro (Goody Two Shoes)
19%
Karen Landau (Puss 'n' Boots)
11%
Mary Stavin (Strip)
4%
Sara Stockbridge (Room at the Top)
6%
Total votes: 54