Rogue Traders Try the Flavour of Adam Ant for New Single
Submitted by admin on Sun, 14/03/2010 - 21:48
in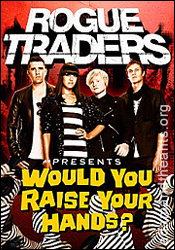 The celebrations for the 30th anniversary of the release of the Kings of the Wild Frontier LP have got underway with the Rogue Traders releasing a nod to Antmusic with their new single.
Released on Friday 9 April, Would You Raise Your Hands? features the lyrics made famous by Adam & the Ants in 1980: "Unplug the jukebox and do us all a favour" for an upbeat dancefloor stomper. Although huge in Australia, Rogue Traders are probably best known in the UK for Voodoo Child, which featured Neighbours actress Natalie Bassingthwaighte on vocals and was played on season three of the new Doctor Who series.
Have a sneaky listen to Would You Raise Your Hands? on the Rogue Traders' MySpace page or pre-order their new album Night of the Living Drums from Amazon UK.
Who's online
There are currently 0 users and 59 guests online.
Who's new
bugpowder
PixieM
buddyholly
sfc1870
bretty
This Month's Poll
Who's the quintessential 'Ant Video Girl'?
Amanda Donahoe (Antmusic, Stand & Deliver)
22%
Diana Dors (Prince Charming)
39%
Lulu (Ant Rap)
0%
Caroline Munro (Goody Two Shoes)
19%
Karen Landau (Puss 'n' Boots)
11%
Mary Stavin (Strip)
4%
Sara Stockbridge (Room at the Top)
6%
Total votes: 54