NME - Does Rock 'n' Roll Kill Brain Cells?
Submitted by admin on Wed, 28/04/2010 - 22:52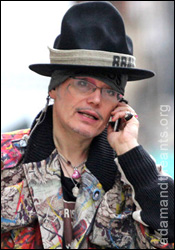 Every Adam & the Ants fan will know that Kings of the Wild Frontier "woz robbed" of the number one slot in early 1981, but it seems - quelle surprise - that even the almighty NME, who claims on their website to have "chronicled and helped to shape the history of music over the last 50 years" can't get their Ant facts right.
This week's edition features a pop quiz with Adam, testing his mental agility and memory of thirty years of on-off Ant action. Scoring 6 out of 10 (well, 7 out of 10 in real money), Adam faltered on remembering who directed the Apollo 9 video (come on, we've all forgotten Francis Frances...um whatisname's... errr, name every now and again..?), the number of years between Apollo 9 and Room at the Top (well he was having a swell old time over in Hollywood...), and some bird's name in an obscure* television part.
Not bad, considering the glaring inaccuracies in Adam's autobiography, Stand & Deliver....
NME magazine is available now from all half-decent newsagents across the UK and most large music/book stores internationally.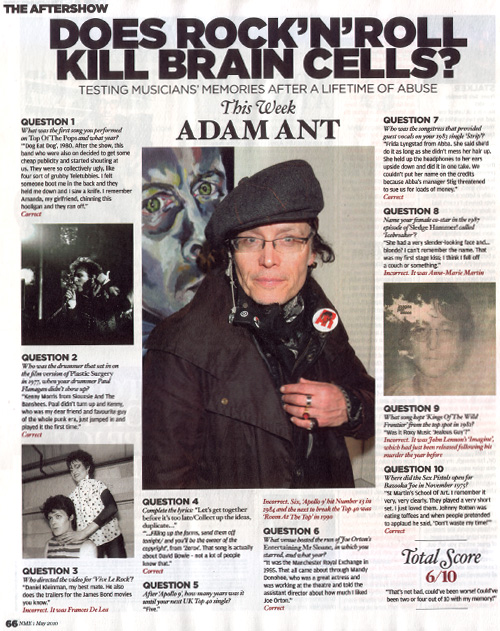 *Obscure, but yup - very good in our opinion...
Who's online
There are currently 0 users and 44 guests online.
Who's new
bugpowder
PixieM
buddyholly
sfc1870
bretty
This Month's Poll
Who's the quintessential 'Ant Video Girl'?
Amanda Donahoe (Antmusic, Stand & Deliver)
22%
Diana Dors (Prince Charming)
39%
Lulu (Ant Rap)
0%
Caroline Munro (Goody Two Shoes)
19%
Karen Landau (Puss 'n' Boots)
11%
Mary Stavin (Strip)
4%
Sara Stockbridge (Room at the Top)
6%
Total votes: 54