Uncut Magazine - The Making of Kings of the Wild Frontier
Submitted by admin on Wed, 31/03/2010 - 22:53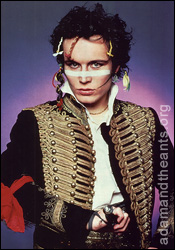 Adam & the Ants in subject of rather good retrospective magazine article shocker! Yes, Adam and his intrepid 1980-era Ants feature in the May 2010 edition of the rather excellent Uncut magazine for The Making of Kings of the Wild Frontier - out today!
Featuring input from Adam Ant, Marco Pirroni, Chris Merrick Hughes, Terry Lee Miall, Kevin Mooney and former manager and key influencer Malcolm McLaren, the three page feature (including A4 pin-up of the particularly splendid Adam pic, right) details the circumstances leading up to the making and the release of the firm favourite Ants anthem Kings of the Wild Frontier, which although initally released in 1980, hit #2 in the UK singles chart in 1981, in the dawn of Antmania.
Uncut magazine, May 2010 is available now from all half-decent newsagents across the UK.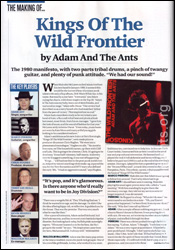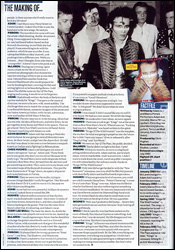 Who's online
There are currently 0 users and 44 guests online.
Who's new
bugpowder
PixieM
buddyholly
sfc1870
bretty
This Month's Poll
Who's the quintessential 'Ant Video Girl'?
Amanda Donahoe (Antmusic, Stand & Deliver)
22%
Diana Dors (Prince Charming)
39%
Lulu (Ant Rap)
0%
Caroline Munro (Goody Two Shoes)
19%
Karen Landau (Puss 'n' Boots)
11%
Mary Stavin (Strip)
4%
Sara Stockbridge (Room at the Top)
6%
Total votes: 54