Adam Ant: The King of Sexual Diversity
Submitted by admin on Sun, 28/02/2010 - 23:32
in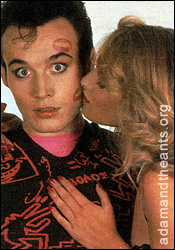 In a previous article, I examined the lyrical content of Adam's songs and tried to make the case that his music had examined more types of sexual behaviour than any other musician. His songs have covered straight sex (S.E.X., Sexatise You, Strip, Playboy), sex in airplanes (Mile High Club), bathroom sex (Bathroom Function), high class prostitution (High Heels in High Places), sexual body art (Red Scab), sexual body piercing (Punk in the Supermarket), fellatio (Cleopatra), human orgasm (Can't Set The Rules About Love), sadomasochism (Beat My Guest, Whip In My Valise, Physical, Rough Stuff), transvestism (Greta X), exhibitionism (Lady), bondage (Ligotage, Human Bondage Den), homosexuality (Bright Lights, Black Leather, Piccadilly), lesbianism (All Girl Action), bestiality (Juanito the Bandito), infantilism (1969 Again), voyeurism (Lady), fetishes in general (Christian D'or, Survival of the Fetish) and specific fetishes like rubber (Rubber People).
Since writing that article, I have come across titles of his early (1977) songs that feature other types of sexual behaviour (including cunnilingus, swinging, rape, necrophilia, knicker fetishes, and amputee fixations). These tapes feature sex-based songs, many of which have never found their way onto record.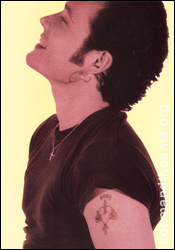 Song titles include Weekend Swinger, Underwear, Hooray, I'm a Hetero, Punishment Park, The Throb (True Love), Swedish Husbands, Sex Rumples The Clothing, Sit On My Face, Get On Your Knees, Female Rape, Deanecrophilia and Saturday A.M. Pix (AMPIX are a company which specialise in products for those with a sexual amputee fixation).
One thing is very clear – sex was very important to Adam. He has gone on record and said that his life philosophy is 'pure sex'. The tattoo on his left shoulder depicts an Excalibur-like sword piercing a heart, with a scroll proclaiming 'Pure Sex'. This later became the subject of one of his songs (Red Scab). In his own words he stated:
My tattoo is my philosophy. I mean what I do in my own bed is my business and I don't tell anybody what I do or who I do it with, or how I do it. It doesn't interest me to tell them because it would bastardise any relationship I have with any woman. I just think of certain situations which I think would be very nice to say. I've just written a number called Bathroom Function which is about fucking in the bathroom because I think the bathroom's a very nice place to try out, maybe, that's if I haven't done it, which I'm not telling you. I've done a lot of rubber numbers 'cos I like rubber and leather fetishism which I have found a very intriguing subject. At college I spent about two years of my life doing a thesis on it.
His overriding sexual philosophy is reiterated in another of his earliest interviews:
I like sex. My songs are about sex. Sex is my life. I just find it the most exhilarating experience, and I think it should be done on stage. I think the only people who do it are people like, Jim Morrison did it, and died. And Iggy [Pop] might have done it. Sex is my source of material.
I think that sex is the last great adventure left! The thing is that if you're too aware of it – and you try to be sexy – it usually ends up not being sexy. (Adam Ant, Smash Hits, 1981)
When you take the sex and danger out of pop, it isn't pop any more. (Adam Ant, Antbox Book, 2000)
In the rest of this article I aim to explore the influences in Adam's adolescence which led to so many songs about the seedier side of sex. Before looking at specific influences, I will take a brief look at Adam's early 'sexual' image.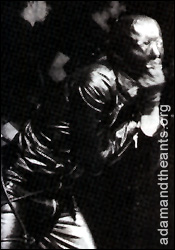 Adam's Early 'Sexual' Image
In addition to the sexual content of his lyrics, Adam's earliest stage personas were also very sexual. Adam bought his clothes from 'Sex', the shop run by Malcolm McLaren and Vivienne Westwood which was also infamous for selling rubber and leather fetish wear. (McLaren later briefly became The Ants manager and even tried to get The Ants to star in a porno film with female punk band The Slits!). The first t-shirt he ever bought there was provocative and controversial (featuring the 'Cambridge Rapist'). One of McLaren's best-selling t-shirts ('Vive Le Rock') later became the title of Adam's 1985 single and album. Adam's interest in sex was all-consuming and spilled over into most areas of his and The Ants lives. It was common at early gigs for Adam to be dressed in bondage gear. One infamous incident happened at their debut gig at the Institute of Contemporary Arts in London (10th May 1977). To get the gig, Adam said his band were a country and western band. He then got on stage dressed in bondage trousers and a leather head mask and performed the future S&M classic Beat My Guest (later to be a b-side of their first No. 1 hit Stand and Deliver). Predictably, they were 'asked to leave' after that opening number!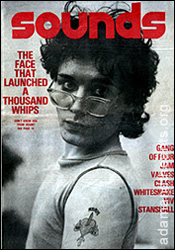 Early gigs (1977-1979) were known as places to buy lots of eye-catching merchandise (t-shirts, badges, posters etc.) featuring sadomasochistic and bondage sex-themes designed by Adam. Advertisements for the 1979 tour were the first to use the slogan 'Antmusic for Sexpeople'. To Adam, sexpeople were people who got off on sexual phenomena, who liked sexual imagery and enjoyed being sexual. In a Melody Maker interview he said 'What we're basically dealing with here with is taboos, and a lot of my work as a kind of music therapy'. Adam's first major interview as cover star in (the now defunct) Sounds was where he was described as 'the face that launched a thousand whips'. His breakthrough album Kings of the Wild Frontier (1980) may have surprised his new young fan base as it came with a free booklet full of sexual imagery.
Musical Influences
Although Adam clearly has musical influences, most of those he talks about or name checks in his songs appear to have more to do with image than music or his overriding interest in sex.
Early influences like Johnny Kidd and the Pirates may have inspired some of his later images. The first record he bought was Magical Mystery Tour by The Beatles, but rarely makes reference to them as any kind of musical influence.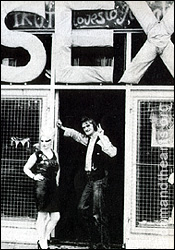 The early 1970s appear to have thrown up more influences where music and sexuality was talked about in relation to the person if not their songs (Jim Morrison, David Bowie, Iggy Pop, New York Dolls, Lou Reed, Roxy Music). For instance, he loved the New York Dolls 'because they looked like drag queens'. His inspiration for forming Adam & the Ants was seeing the Sex Pistols very first gig when they supported the first band he was in (a short-lived band called Bazooka Joe). It was after this that a plethora of sexual punky songs were written for the Ants.
In an interview with Derek Hardman (Inside Out magazine, 1979), Adam described the lyrical content of his songs as dealing with 'subjects of interest, mystery and imagination' and that they came from 'living my life, reading, films, events and history'. This quote also carries the implicit assumption that musical influences paid little (if any) part in his lyrical obsessions. The only thing that really connects sex with music is the perception that being a 'popstar' will bring more sexual opportunities. For instance in the Antbox book, Adam says: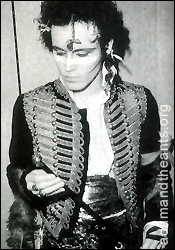 I remember being in a room with four girls watching [Marc] Bolan on Top of the Pops and it was the first time I had actually watched four girls just absolutely dripping, climaxing , looking at a guy… Whatever it is, I want some!
Very few of his musical heroes wrote explicit songs about sex and it is clear that the (sometimes) extreme sexuality of his lyrics originate elsewhere. By digging a little deeper it becomes abundantly clear that his interest in art lay the foundations of his sexual interests.
Artistic Influences
By looking at the individuals who Adam held in high esteem, it becomes very clear that Adam's predisposition towards sex comes not from musical influences but from figures in the 20th century art world. Adam originally wanted a career in Art after seeing an exhibition of Pop Art at the Tate Gallery in London (1971). He ended up studying Graphic Design at Hornsey College of Art (now part of Middlesex University) in North London. His favourite class was the 'Erotic Arts' course taught by art historian Peter Webb. This concentrated on Indian, Chinese, and Japanese traditions of erotic painting, drawing, and sculpture. Adam was also interested by women's role in society and he was the only male at his college to take the class in 'Women In Society'.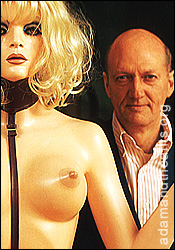 Adam was inspired by the iconographic images of Andy Warhol, the autoerotic paintings of Allen Jones, the neo-sadomasochistic fantasies of Hans Bellmer, and 'sexpop' travellers like Eduardo Paolozzi, Francis Bacon and Stanley Spencer. All these people clearly influenced his music. In 1977, Adam said:
The S&M thing stems from [when] I was at College Art School, with John Ellis (of the Vibrators), and all the time I was at Art College I was very influenced by Allen Jones the artist. All my college work is pretty much like this, this is just a musical equivalent of what I was visually doing at college. I'm not personally into S&M, I mean I never smacked the arse of anybody. It's the power and the imagery. There's a certain imagery involved with that which I find magnetic. It's not done viciously, if you read S&M mags and spank mags or anything like that, it's done with an essence of humour... war dress and stuff, that just appeals to my imagination.
While at Art College, Adam did a thesis on sexual perversion
I read lots of books and discovered much to my surprise that it wasn't just a kick, it was a deadly serious subject. A very sort of medical thing and I found I got a source of material for my songs. I wrote a song called Rubber People which is a serious look at rubber fetishism. And I also wrote one about transvestism. They're not serious, none of my songs are serious, I mean fucking hell. They're serious to me. But the thing is that with, say, 'Transvestism' people just laugh at people. If somebody's wearing a pair of rubber underpants under a pin-stripe suits it's funny, y'know. But I don't think it's funny. I don't think it's any more strange than watching fucking Crossroads every night.
By looking very briefly at each of Adam's artistic heroes, it is easy to see where the inspiration for many of his early lyrics came from. The most important influences were Allen JonesAllen Jones (b. 1937) Allen Jones is perhaps Adam's greatest single influence and has been cited by Adam in many early interviews. Jones is a British painter and sculptor and a successful Pop Artist. He is best known for his use of slick fetishistic and obsessive objects, often of a sexual character (legs, stockings, shoes, etc.) taken from pornographic and women's fashion magazines. He was an early and leading figure in the pop-art movement, and won the Paris Biennale Prize in 1965. Jones was name checked by Adam in the song Friends and also taught at Adam's art school (Hornsey College of Art). One of Adam's songs Ligotage (French for bondage) was directly inspired by his paintings., Stanley SpencerStanley Spencer (1891-1959) Spencer was an English painter who is probably best known for nude paintings of his second wife (Patricia Preece). His paintings of her expressed the sexual tension in his life and his belief in the human sanctity of love. His best known picture is 'The Leg of Mutton Nude' (1937) which features both he and Patricia naked. Like Allen Jones, Spencer was also name checked by Adam in his song Friends., Eduardo PaolozziEduardo Paolozzi (1924-2005) Paolozzi is a British sculptor and printmaker born of Italian parents in Edinburgh. He is seen as a forerunner of the Pop Art movement. He began his studies at the Edinburgh College of Art in 1943 and eventually moved to Paris, where he met Giacometti and was influenced by Dadaism and Surrealism. He later became professor at the St. Martin's School of Art (where the Sex Pistols played their first gig supporting Adam's first band Bazooka Joe). His work as a sculptor and print-maker is of major importance. He made collages embodying the Surrealist conception of the juxtaposition of incongruities using cuttings from US magazines (e.g. 'I Was A Rich Man's Playboy', 1947)., Hans BellmerHans Bellmer (1902-1975) Bellmer was a Polish-French painter and born in Germany. He was a graphic artist renowned for the erotic quality of his work (surrealist style depicting bizarre images involving young female nudes). He was obsessed with the female body and in 1923, he began to construct jointed and articulated dolls in the form of adolescent girls, and photographed them in a variety of erotic poses. Denounced by the Nazis as a degenerate, he fled to Paris in 1935 and became a member of the Surrealist group there and made his famous poupées (dolls). The erotic undertones of his work scandalised many but made him a favourite of the Surrealists. He was also a firm favourite of Adam who loved his work., Francis BaconFrancis Bacon (1909-1992) Bacon was a controversial English painter of Irish birth. Although he received no formal art training, he created a sensation in 1945 when he exhibited his 'Three Studies for Figures at the Base of a Crucifixion; in London. His work was Expressionist in style, and his distorted human forms were unsettling. He developed his personal style and gloomy subject matter during the 1950s, when he achieved an international reputation. Aside from his unpleasant images of corrupt and disgusting humanity, Bacon deliberately subverted artistic conventions by using the triptych format of Renaissance altarpieces to show the evils of man, rather than the virtues of Christ. Although Adam cites Bacon as one of his heroes, there is little explicit reference to him or his art forms in any of his songs., and Andy WarholAndy Warhol (1928-1987) As one of the most famous names in 20th century art, Warhol began as a commercial illustrator before gaining notoriety with his '32 Campbell's Soup Cans' (1962). His central idea was that culture is glutted with information, where most people experience most things at second or third hand through televison. Warhol argued that these images become banal and disassociated by being repeated again and again and again, and that there is therefore a role for 'affectless art'. He was a conduit for a sort of collective American state of mind in which celebrity – the famous image of a person, the famous brand name – had completely replaced both sacredness and solidity. This became the key to Warhol's work and is there in the repetition of stars' faces (Liz, Jackie, Marilyn, Marlon, and the rest), and as a record of the condition of being an uninvolved spectator it speaks eloquently about the condition of image overload in a media saturated culture. In the music world he is just as famous for 'managing' the Velvet Underground and designing the 'peeling banana' on their seminal debut album. Warhol is the subject of one of Adam's earliest songs Lou co-written by pop punk icon Jordan..
These brief sketches show that his early music is a direct musical equivalent of his heroes' artwork (particularly Jones, Bellmer and Paolozzi). The influence of Warhol, Bacon and Spencer is more subtle. These three individuals all produced controversial work (which Adam found inspiring). It might also be argued that all three had a somewhat troubled or tortured sexuality. This again, may have been of interest to Adam. The only other artists that Adam has singled out are Picasso and the Italian futurists. Adam was impressed by Picasso's 'genius, energy and sexuality' and was the subject of one of Adam's best album tracks Picasso Visits The Planet of the Apes. A whole song (Animals and Men) is devoted to the Italian futurists on the debut album. In this song he writes about the influence of Filipo Marinetti (1876-1944), Giacomo Balla (1871-1958), Umberto Boccioni (1882-1916) and Carlo Carra (1881-1966).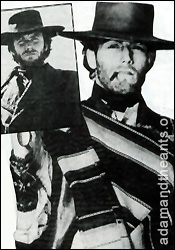 The Futurists were a 20th century avant garde movement in Italian art, sculpture, literature, music, cinema and photography. Their manifesto broke with the past and celebrated modern technology, dynamism and power. The combination of different art media was appealing to Adam although there was nothing overtly sexual in the work of its exponents.
Film Influences
Film has always been important to Adam and as a teenage usher at the Muswell Hill Odeon he saw lots of films in his formative years.
Adam has gone on record many times to say that his film hero is Dirk Bogarde. The Ants first album (Dirk wear White Sox) was named after him and some of his films provided inspiration for his songs. Many of his most notorious films (The ServantThe Servant (1963, directed by Joseph Losey) starring Dirk Bogarde and James Fox. The film is an allegory on class conflict and based on the novel by Robin Maugham. In the film, Bogarde's character (Hugo Barrett) plays Fox's manservant. Through sinister gameplaying, a role reversal ensues. The film features a homoerotic subtext in which the homosexual tension between Bogarde and Fox has a subtle intensity., Death In VeniceDeath in Venice (1971, directed by Luchino Visconti) starred Dirk Bogarde and Bjorn Andresen. The film was an adaptation of Thomas Mann's novella and told the story of an ageing paedophile, Gustav von Aschenbach (Bogarde) who becomes obsessed with an adolescent boy in the hotel he is staying in. Mann wrote the story as an ageing artist's search for perfection and beauty., The Night PorterThe Night Porter (1973, directed by Liliana Cavini) starred Dirk Bogarde and Charlotte Rampling. The film has been described as an operatic collaboration of sexual disgust. The story is set in a Viennese hotel in 1957, and centres on the relationship between Bogarde (Maximilian Theo Aldorfer, a sadistic ex-SS officer) and Rampling (Lucia, who was a survivor in child concentration camp at the hands of her tormentor Aldorfer). Lucia and Aldorfer fall back into their sadomasochistic relationship when meeting 13 years later. The film's sexuality is based on degradation and self-destruction. It also inspired the most despised subgenre of Italian film-making – the Nazi sexploitation film. This is not a film for the squeamish. Two of Adam's songs were directly inspired by this film including the single Deutscher Girls and the early live favourite Dirk Wears White Sox (aka Concentration Camp).) dealt with taboo areas with which Adam identified and/or had a fascination with.
All these films feature taboo sexual subjects (or at least taboo at the time the film was made) and probably appealed to Adam because of their taboo nature.
These were all a direct influence on Adam's early songwriting.
Outside of Dirk Bogarde and his films, Adam cites his film heroes as Clint Eastwood, Steve McQueen, Mongomery Clift and Charles Bronson. Adam makes few references to films or film stars in his song writing, although there are name checks for Michael Caine, John Wayne, Terence Stamp, and Charles Hawtrey in Friends, Clint Eastwood in Los Rancheros, Steve McQueen in Steve McQueen, Robert de Niro in Christian Dior, and Bruce Lee in Bruce Lee. He also dedicated one song that he wrote about the film Psycho (Norman) to its star Anthony Perkins. Again, these film stars and their films (bar Bogarde) have had little influence on his sexually-themed songs.
Literary Influences
There are very few references to literary heroes in Adam's work and even less that is sex-related. The gay playwright Joe Orton (1933-1967) is one influence who has impacted on Adam's life. Adam wrote one song about Orton's homosexual relationship with his lover Kenneth Halliwell (Prick Up Your Ears). However, the lyrics didn't fit the pirate theme of the second album (Kings of the Wild Frontier) and were changed. This song eventually became The Magnificent Five. In 1985, as part of his acting career, Adam performed in Joe Orton's play Entertaining Mr. Sloane on stage at the Manchester Royal Exchange. Adam claimed that the 'idea of playing a psychotic bisexual thug was good'.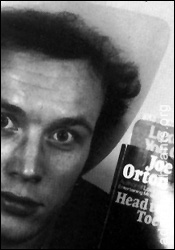 Orton's comedies (Entertaining Mr. Sloane, Loot, and What The Butler Saw) are all black, stylish, and violent. Furthermore, they all have an emphasis on corruption and sexual perversion. With such content it is easy to see why Adam enjoyed these. However, it is not known when Adam was first aware of Orton's work. The likelihood is that his appreciation of Orton was after many of his initial songs were written.
The German philosopher and poet Friedrich Nietzsche (1844-1900) was also one of Adam's literary inspirations and the subject of early live favourite Nietzsche Baby. Nietzsche is most well known for his rejection of Christian morality (which no doubt appealed to Adam) and the 'revision of all values'. Despite the influence, there was little in his writings that would have inspired Adam's sex-related writings.
Passing reference to both the US 'beat generation' writer Jack Kerouac (1922-1969) and the French novelist and playwright Albert Camus (1913-1960; a protagonist of the 'Theatre of the Absurd' movement) make an appearance on his 1985 song Anger Inc.. Again, these influences appear to be post-musical success and would have had little impact on his early sexual songwriting.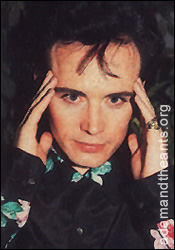 Psychological Influences
As a psychologist myself, I couldn't help but have a quick look at Adam's 'psychological' influences. The only time he has made reference specifically to a psychologist is a name check of Eric FrommEric Fromm (1900-1980) – Fromm was born in Frankfurt, the son of a Jewish wine trader, He studied sociology under Alfred Weber at Heidelberg and received his Ph.D. doctorate in 1922. Two years later Fromm joined with Frieda Reichmann, his future wife, to open the Therapeutikum in Heidelberg. As a psychoanalytic theorist, he differed in outlook from both Jung and Freud in the importance he ascribed to society and social factors. Fromm saw personality as an interplay between individual development, family and society. He divided people into different characters – productive (people who can change themselves; creative and loving; value themselves and others for what they are), receptive (dependent on others and 'masochistic' in approach, show loyalty and devotion), exploitative (competitive and see the world in 'dog-eat-dog' terms; gain satisfaction from controlling or outsmarting others), hoarding (protective of what they have and not open to new ideas; do not like sharing their lives with other people) and marketing (concerned with image and style). If they are not admired they feel inadequate and useless. The latter group go to great lengths to maintain themselves as marketable commodities). An opponent of Adolf Hitler, Fromm emigrated to the United States in 1934. For the next five years he was employed at the Institute for Social Research in New York. After leaving the institute in 1939 Fromm taught at several universities and wrote many books including 'Psychoanalysis and Religion' (1951), 'The Sane Society' (1955), 'The Art of Loving' (1956), 'The Dogma of Christ' (1963), 'The Heart of Man' (1964), 'The Revolution of Hope' (1968), and 'The Anatomy of Human Destructiveness' (1973). in his song Friends. It is obvious that Adam has read some of Fromm's work as there are Frommian influences in his work.
It is clear that Adam took inspiration from Fromm. The 'dog eat dog' personality type (consciously or unconsciously) inspired his first hit single. The 'masochistic' personality type permeates many of his early songs. The 'marketing' subtypes who concern themselves with image and style (and who feel inadequate if they are not admired) could be argued to be Adam himself. Alternatively he may have seen himself as the 'productive' type because of his creativity and ability to change himself.
By just scratching a little deeper at the surface of Adam's influences, we see the roots of his lyrical sexuality. As time has gone on, less and less of Adam's songs have concerned sex. Furthermore, more love songs have made an appearance (Wonderful being a prime example). Maybe this is just an overt sign of the maturation process. Whatever it is, there is little to take away Adam's crown as the king of sexual diversity.
Words: Professor Mark Griffths
Who's online
There are currently 0 users and 35 guests online.
Who's new
bugpowder
PixieM
buddyholly
sfc1870
bretty
This Month's Poll
Who's the quintessential 'Ant Video Girl'?
Amanda Donahoe (Antmusic, Stand & Deliver)
22%
Diana Dors (Prince Charming)
39%
Lulu (Ant Rap)
0%
Caroline Munro (Goody Two Shoes)
19%
Karen Landau (Puss 'n' Boots)
11%
Mary Stavin (Strip)
4%
Sara Stockbridge (Room at the Top)
6%
Total votes: 54